Have you ever met a book that feels like it was made for you? The Rizkaland legends are like that more me. There's other book series that I love and I can point to a whole lot of good things in them, but these just fit perfectly with something inside. They're my comfort books, and that is despite the amount of feelz(TM) in them. (and despite my occasional wishes that the worldbuilding was a little more in some places.)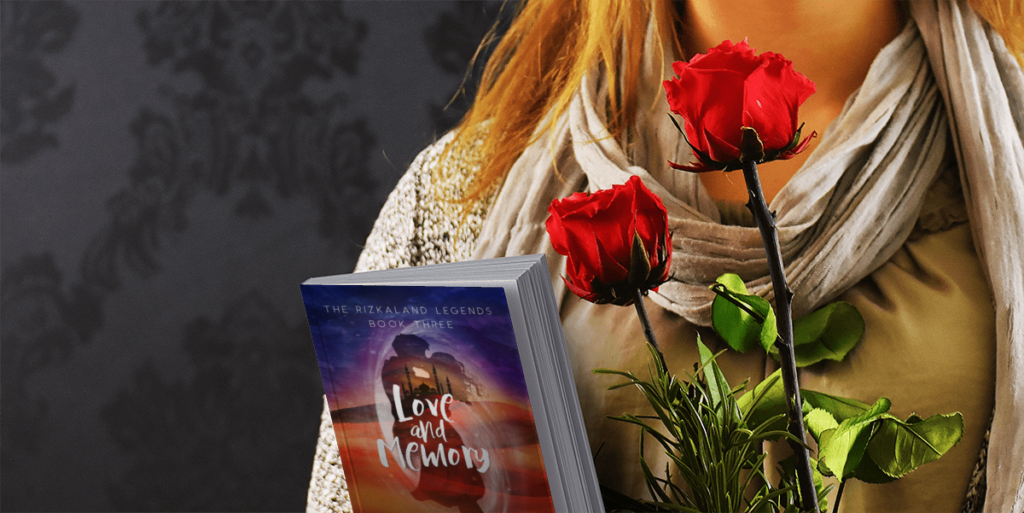 Hello and welcome back for my review of Love and Memory by Kendra E. Ardnek. I've managed to make it free of spoilers for the most part. There might be some generalities, but I'm not giving away big surprises like the book two twist.
Love and Memory is a bizarre and wonderful book. What's so strange you might ask?
It's the premise really. It's about figuring out life and relationships when you come back after decades in another world. Being a teenager again, not being married, having to hide all the things that changed you, none of these (well maybe the last one) are like anything that happens in real life.
And yet, this is the book that makes things realistic. That moves the story away from 'an arranged marriage in another world to a person who is perfect for you and you live happily on from there'. these people have got problems. The relationships aren't perfect. No wish fulfillment with short cuts. This is real.
Love and Memory is a book of deep internal journeys. Lots of them. There's a whole twelve different points of view which Kendra manages masterfully. This is not twelve story lines, the actual external plot is fairly simple, but we get to sit in different people's heads along the way and check in with them. Life is tough, getting to go back and go through young adulthood again, that's really tough. So is dealing with PTSD and again with rebuilding friendships when you've all changed. Or for a different kind of problem, dealing with adjusting to living in a different world to you were born in when you don't have some prophesied destiny and the world just won't stop spinning.
The book doesn't just revisit old characters (and bring them together so the different group can meet), it brings a few new people along for the ride. We've got a couple of people from nations we've never visited before in Rizkaland. If I was looking for things to criticize I could say they feel like stereotypical middle eastern desert people, but since they're said to have started as people who fled from our world through a door, the similarities make sense. The characters are good too, the few we really get to know.
Then there's the characters from our world and, well, they're a lot of fun. They contribute to the glorious mess that is the characters wonderfully and aren't too phased by it. I mean, it's a lot to take in and they do have to deal with it, but they're not scared off by the craziness in the end. "I really want to know your family better."
The relationships, thee was a lot to juggle here. I think I counted 10 romantic relationship of varying levels of significance and they just- all the feels. These people are a mess, but wise too. (Occasionally even at the same time.) There's a lot to learn in here, though it's certainly not some preachy book on how to do relationships.
Before I go into spoilers and squealing about what I love most in detail, I'll just wrapping this up. love and Memory is most definitely a kissing book. I didn't keep count, but there's was two in the prologue while the first book of the series had no more than four all up. Physical intimacy is refenced a bit, but the book is really much more about the emotional part of things. It's certainly got it's dark and scary moments though not heavy on violence. It's not a children's book. There's dealing with trauma.
It's also got warm fuzzy moments and little hints in the puzzle that is the future of Rizkaland. There's happiness and friendship and people being brave.
I said I'd squeal about spoilers, and I will at a future date, quite possibly tomorrow, but I ran out of time on writing this. Once again, buy the book, enter the giveaway, go see what else is happening on the blog tour.
Tour Schedule:
April 19th – Monday
Knitted By God's Plan: A Post of Tantalizing Snippets
Fantastical Notions: Interview – Kendra
Resting Life: Review
April 20th – Tuesday
Knitted By God's Plan: 12 POV's and How I Managed
Madi's Musings: Interview – Petra
Katherine A. Massengill: Review

April 21st – Wednesday
Knitted By God's Plan: Every Reason You Need to Read LaM
Madi's Musings: Interview – Kendra
Live. Love. Read: Review
Safe Return Doubtful: Portal Fantasy and the Doorkeeper
April 22nd – Thursday *Release Date*
Knitted By God's Plan: IT'S HERE, GUYS!
Lands Uncharted: Interview – Kendra
Fantastical Notions: Review
Rachel Rossano's Words: Motherhood in Fiction
April 23rd – Friday
Knitted By God's Plan: Book 4 Title Announcement
Dreams & Dragons: Interview – Kendra
A. R. Silverberry: Interview – Andrew
Light & Shadows: Review
April 24th – Saturday
Knitted By God's Plan: Next on the Horizon
Dreams & Dragons: Interview – Sorei
Katherine A. Massengill: Interview – Kendra
Madi's Musings: Review